Revel F206 Review
Sven Bilen 4/8/15
Delicious Americans
Stylish and modern speakers featuring gun sound to the world.

Plus
Revel F206 is well-balanced speakers playing with a fine balance while both life and dynamism. Here are no excesses or spectacular trends, but it does not reproduction boring. On the contrary, the playing style modern and engaging.
Minus
The neutral version may be little monitor-like, if you angle the speakers very inward. The bass is clean and cash, but do not abysmally down.
Revel emerged as a high-end speaker brand of Harman Group. The renowned speaker designer Kevin Voecks, who had already made his name at Snell Acoustics, was commissioned to create a high-end speaker brand to the group; a brand that would fit into their high-end Mark Levinson electronics. This has resulted in a number of very good sounding constructions, and Revel is a speaker brand that enjoys great respect. The company is now part of what is called Harman Luxury Audio Group, along with Mark Levinson, Lexicon and JBL Synthesis.
Performa3 series is the latest from Revel. It is between the series in their program, but it does not mean in any way either is or seems cheap. Some earlier models from Revel may have seemed a bit square and boring in design - at least by my standards - but the second largest floor-standing speakers in the series, Revel F206 is really delicious with rounded corners and a very appealing look. It is clear that Revel has an eye to what the market will have the look.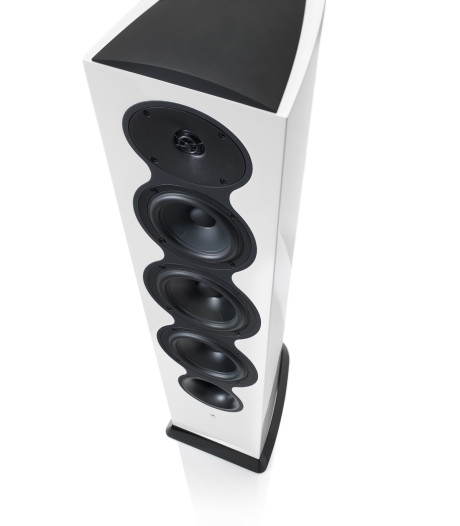 The range of speaker elements and the bass reflex port is recessed in a curved black frame. It actually looks really great. The tweeter waveguide works perfectly, and F206 have a really nice spread.
Test specimens were in white piano lacquer with touches of black. The build quality of the speakers feels mildly convincing; they oozes class. A very small text on the cardboard box indicating that they are manufactured in Indonesia, but if there is someone who has prejudices about production in the Far East, they may well bury them right away. Much better is it does not.
How
is three-way speakers with bass reflex port in front, which makes them a little easier to position close to the rear wall, if that's what you want. The integrated foot is threaded to the spikes, which of course comes with all the speakers, although I believe it is not the best solution. Especially if you have hardwood floors.
The luminaires is a 1 inch tweeter with wave guide - Kevin Voecks has worked hard to manage the entire radiation from Revels speakers with something called Power Response Performance. Wave Wizard should be calculated according to what Revel calls a mathematical breakthrough.
Both the 5.25-inch midrange and two 6.5-inch bass elements have a membrane with pressed creases and a molded aluminum frame. The entire element / port-row matches the design together in a black unit; it looks nice, but can be covered with a fabric front with magnetic mounting. Sonically it is - as so often - an advantage to play without fronts on.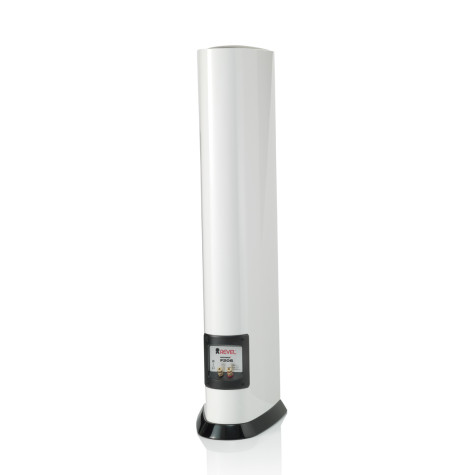 The trend for speakers is towards that uses single-wiring terminals, and Revel F206 is no exception. Here sits a pair of terminals of excellent quality and at an angle that makes it easy to connect any type of cables. How what is done.
Life and balance
Revels between models in my eyes earlier risen as much "American" - they did a lot right, but could easily lead in their sound. American living rooms look traditionally different than our other wall structures and floors, and it was the speakers made. It meant that you here with us often had to work a lot with location, that they could do their best.
But times change, and F206 sits bell clean immediately. Here we get a balanced and surprisingly neutral reproduction with both life and dynamism abundantly. They play fast and - yes, contagious is perhaps an apt word. But not too contagious; they are careful not to give quite lynx. This distinguishes them from, for example. Bowers & Wilkins CM10, which is more time in the whole time. Two good ways to solve the reproduction, but for two different konsumenttyper.
Moreover, they are not particularly difficult to set up to perform properly; I expected much more difficulty. However, one should be careful not to angle the speakers completely towards the listening position, since in this case may be too much monitor it. I ended up with a tiny toe-in, which I think gave the best compromise between sound and detail, even though the speakers fine dispersion means they are not as critical as many competitors.
Three-way speaker can often have a section in the frequency that sticks out slightly; it's always a problem to get all elements to play together as a whole. The crossover is the key to getting the consistency of the sound stage, and here it has actually been getting a whole reproduction - a balance that makes the transitions between the different elements feels smooth.
The bass is clean, sleek and fast. It sounds never exaggerated and not become blurred or soft unless the material says it must be so. Determines the sound recording, not the speakers. The speakers stated to go down to 42 Hz and it is nicely far. You do not get the deepest bass, but if you try to get it at this price, it is rarely very successful, but feels rather underwhelming.

The midrange, like the rest fine dynamics and doing really well on vocals and instruments; is good with details, but not in many. F206 does not try to ingratiate themselves to sweeten the sound, and at this price it is excellent; they are not trying to make himself bigger or better than they are. On the whole it is a very good reproduction without excesses.
Conclusion
It's a bit like Revel previously made ​​speakers to America, but now it makes speakers worldwide. F206 behave well at all times and featuring a reproduction that is easy to live with and which may be combined with much of the electronics that are on the market.
And it's a little it, this price range is about, I think. The speakers will quickly a few good friends in the listening room;they have a sound that you can appreciate, and they are flexible in terms of how to place them in the room. Excellent!