JBL, Revel, Mark Levinson, and Arcam Demos at TAVES 2015
Mark Henninger 10/30/15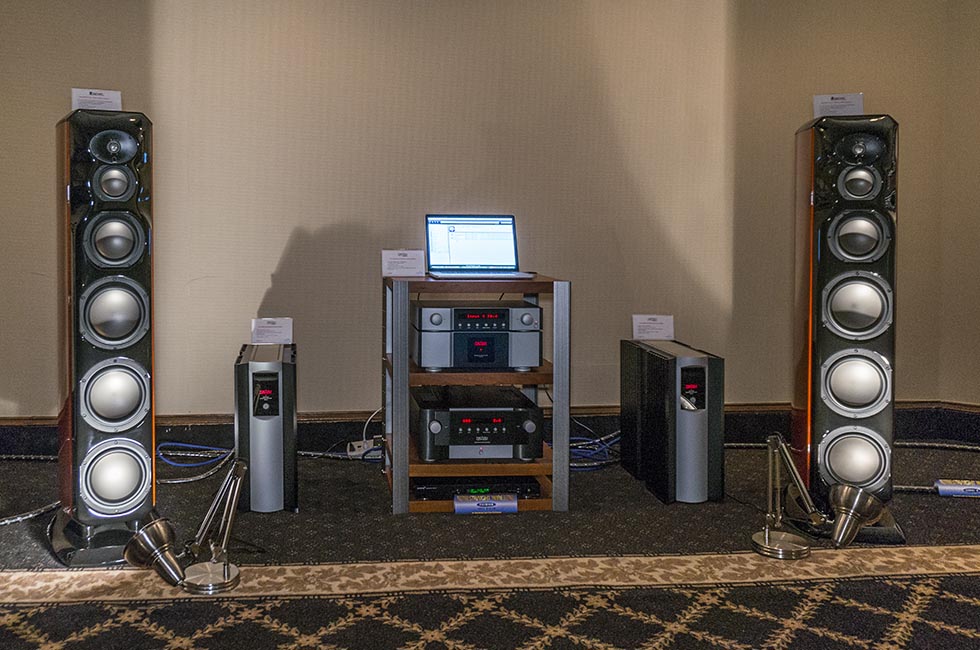 If there's one constant with any demo I've heard involving JBL, Revel, and Mark Levinson gear, it's how close to perfection the systems manage to come. At the TAVES 2015 Consumer Electronics Show in Toronto, JBL/Harman's top-notch systems continued a perfect track record of blowing me away with their fidelity.
The room at the show was quite large and contained three systems. The great thing about that approach is it allowed me to audition all three rigs in the same space, and in rapid succession.
The first system I heard consisted of a Mark Levinson No. 585 Integrated Amplifier powering a pair of JBL Synthesis S4700 speakers ($20,000 per pair). The first track I heard was "The Pink Panther Theme" by Henri Mancini, and it got my attention with horns that were incredibly "live" sounding. The next demo track, Christy Baron's "Ain't no Sunshine" passed the female vocals test with flying colors. The system produced my favorite kind of sound—it was totally involving, rich, detailed, and transparent.
Norah Jones' "Come Away With Me" possessed an expansive soundstage that extended well beyond the physical speakers, and demonstrated how the system handles various production styles—it can handle grand-sounding as well as intimate recordings.
The second system I demoed was the (comparatively) affordable one; it was based on a pair of Revel Performa F208 towers ($5000 per pair). Because Mark Levinson gear is priced well above the Revel Performa line, an Arcam FMJ SR250-based system provided the power and processing for the speakers.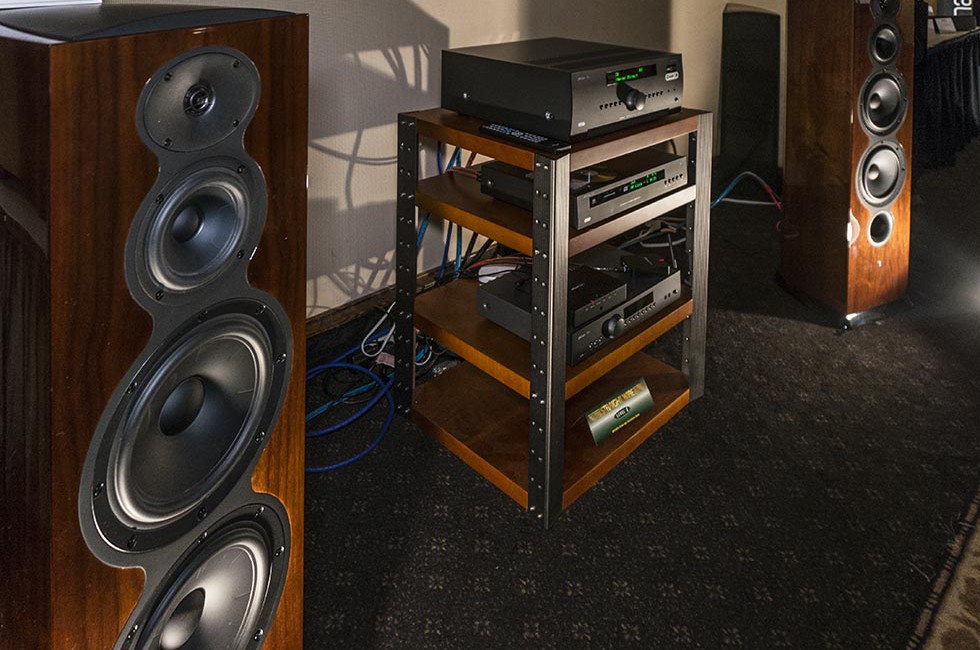 This Revel Performa-based system with Arcam electronics sounded fantastic.
I thought the F208s sounded absolutely fantastic. I was shocked to experience goose bumps within 10 seconds of listening to Daft Punk's "Fragments of Time" playing through the rig. Harry Connick Jr.'s "Where or When" displayed the singer's polished vocal style. Diana Krall's "It Could Happen To You" sounded excellent, the sultry chanteuse is a popular choice for high-end audio demos and I can understand why when I hear her songs play on a great system. The F208s are among the best $5000 speakers I've ever heard, I was truly impressed.
The Arcam FMJ SR250 unit that powered the Performa F208s is a 2-channel integratedamp sporting 7 HDMI inputs and 3 HDMI outputs—yes, it's a 2-channel AVR. The video section features HDMI 2.0a and HDCP 2.2 while the audio capabilities are classic Arcam: You get up to 30 watts per channel of class A power, and up to 125 watts of class A/B. Most of the time, the Arcam is operating in pure class A mode. Furthermore, the FMJ SR250 features Dirac Live, but at the show no EQ or room correction was used. The system sounded quite amazing without Dirac Live, but I would have enjoyed hearing the difference high-quality room correction could have made.
The third system I heard was the heavy-hitter. A Mark Levinson No. 585 was acting as a DAC and preamp, feeding audio to a pair of Mark Levinson No. 52 Reference amplifiers. In turn, the amps provided power to a pair of Revel Salon 2 speakers, which are considered by many to be among the very best Hi-Fi speakers in the word—if not the very best.
Frank Sinatra's "I Left My Heart in San Francisco" sounded darned legit through the Revel/Mark Levinson super system, but Depeche Mode's "Welcome to My World" was absolutely killer, it had so much impact and sounded so tangible, I felt like I could touch the music! It was a powerhouse performance. The bass, the textures, the imaging… it was a prime example of pinnacle-level audio fidelity.
Despite having heard it a mere five minutes earlier, I almost didn't recognize Diana Krall's "It Could Happen to You," because the Salon 2 and Mark Levinson system elevated the presentation to a whole other level.
The Rebecca Pidgeon's rendition of "Spanish Harlem" created its own acoustical space, bringing you directly into the recording—the room disappeared. "Delicate perfection" is what I wrote in my notes.
A switch to Yello's "Planet Dada" provided more audible thrills. Were those perfectly-rendered triangle waves I heard? The sound was so immediate, so dynamic, and so "fast," it reminded me of listening to reference-quality electrostatic headphones. But, compared to even the best headphones out there, the physically impactful bass and the spacious imaging of the Salon 2s was on another level.
Happily, the Mark Levinson/Revel Salon 2 system was connected to the Tidal Hi-Fi streaming service, so I was able to audition tracks I am very familiar with. Bassnectar's "So Butterfly" playing on one of the world's best stereo systems was supremely satisfying. It was fascinating to observe how the bass was rendered, with a dry hollowness that is faithful to the artist's intent, but difficult for many systems to handle properly. The Orb with Lee Scratch Perry's "Golden Clouds" is another track with bass that many systems mangle, but the Salon 2s nailed it.
If you are visiting TAVES, make sure you check out the JBL/Revel/Mark Levinson (featuring Arcam) room, it's worth it!