Architectural
The in-ceiling and in-wall range of loudspeakers combine Revel® best-in-class sound quality with a sleek new look that integrates easily into any décor. For true audiophile performance and easy timbre-matching to Revel in-wall, floorstanding, monitor and center-channel loudspeakers, all models* feature Revel low-distortion motor-structure designs with aluminum-dome tweeters and Micro-Ceramic Composite (MCC) cone woofers. This allows for easy integration into home cinema systems. These In-Wall and In-Ceiling loudspeaker product lines offer a solution for any application ranging from background audio to high-end multichannel home theater installations, proving once again that Revel builds the World's Finest Loudspeakers.
Tweeter Waveguide Assembly
High-frequencies are reproduced from minimum diffraction, acoustically optimized tweeter waveguides. Waveguides match the dispersion of the tweeter and woofer through the crossover region, resulting in uncolored response over a wide listening area. The 7-, 8- and 9-Series in-wall loudspeakers feature newly developed tweeters that help set them apart from other architectural loudspeakers at any price. Their smooth, uncolored sound is challenged only by larger and more-expensive freestanding loudspeakers. The 9-Series loudspeakers feature cast-aluminum baffles to assure freedom from fidelity-robbing speaker-induced resonances, even at high volumes.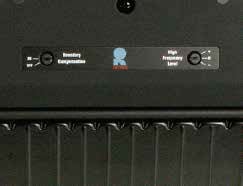 High Frequency and Boundary Gain Compensation
High Frequency (HF) level controls and Boundary Gain Compensation (BGC) controls are valuable features to optimize performance in a variety of applications. Both the 5- and 7-Series models have HF level control switches, and the 7-, 8- and 9-Series models have a BGC On/Off switch control. The HF level control helps adjust the sound for unusually damped or live rooms, while the BGC switch provides low-frequency compensation when the loudspeakers must be placed very close to a ceiling or second wall.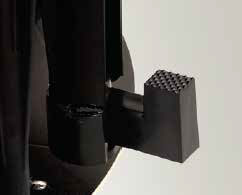 New C-2 Installation Mechanism
An improvement over traditional mounting methods, the new C-2 mechanism accommodates wall material up to two inches thick, except W970 and W990 models, which feature aluminum baffles and multipoint high-tension mounting systems.
Zero-Bezel Magnetic Grilles
The zero-bezel grilles provide an unobtrusive look that allows the product to blend in seamlessly with its surroundings. The ultra-thin design attaches magnetically and completely covers the speaker. The lack of a traditional bezel on the speaker reduces labor when painting the grilles, as no paint mask is required.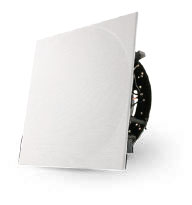 Cohesive Aesthetics
The industrial design that has been created for the in-wall loudspeaker line allows for a very unobtrusive, clean look when installed in home applications. With minimal visual impact, the installed speakers provide cohesiveness within the room, as well as maximum sound quality and performance. The Revel bezelfree design enables these speakers to become virtually invisible within the room.